Pazy And The Black Hippies: Wa Ho Ha


On September 4 we will release Wa Ho Ha by Pazy And The Black Hippies. The first 300 limited edition copies come with green vinyl and a 3-color screen printed jacket handmade by Burlesque of North America! The standard vinyl edition comes with black vinyl and standard blue jacket. Pre-Order now to reserve your limited edition version of Pazy And The Black Hippies. When they're gone, they're gone! The Long Live Boogaloo pre-order sold out in just over 36 hours, so don't snooze on this one!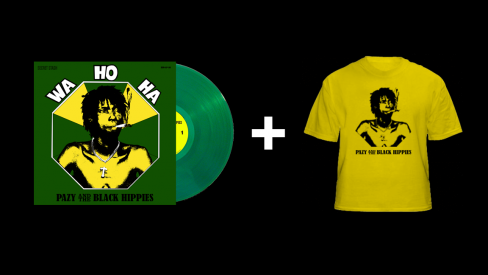 We are also running a one-time limited edition printing of a Pazy And The Black Hippies T-Shirt. This will only be available with pre-orders and is an additional $10.

While Reggae music had its prominence in 70s Nigeria, it was highlife and Fela Kuti's afrobeat that gave the country its own musical national identity. Originally from Southern Nigeria's Benin City, Edire "Pazy" Etinagbedia and his band The Black Hippies released their second LP, Wa Ho Ha on EMI Nigeria in 1978 building on a body of work that effectively glides between these styles creating an incredibly unique record that has become a cult classic. Wa Ho Ha features Pazy and his Black Hippies engaged in call and response vocal anthems all backed by incredibly deep rock steady grooves and afrobeat rhythms filled with funky horns and psychedelic guitar accents. Recorded in the legendary EMI Nigeria studios, Wa Ho Ha typifies the 70s Nigerian sound enthusiasts the world over have come to know and love, but puts an inimitable twist on it.
This rare gem has been lovingly remastered and the original art work painstakingly restored. Used copies seldom appear on the market, and when they do, it's usually in small private circles and you could put yourself through a semester or two of community college for what it costs to obtain a beat-up copy. Available on CD and vinyl, Secret Stash is proud to partner with Comb & Razor to present the first ever reissue of this funky rarity. As always, the LP version includes a free digital download of the entire album and the CD version comes in a premium digipak.
Continue to Site