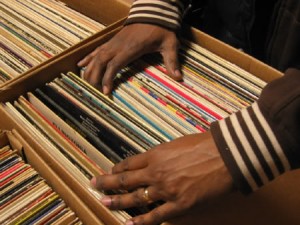 It's time for another record sale in Saint Paul! They've added a large amount of new stock, as well as enlisted various local DJs to entertain you while you dig. This is bigger than the last one! There will be lots of new vinyl stock (LPs, 45s), some posters, books, videos and a smattering of CDs. There will also be a larger than usual amount of jazz vinyl.  See below for more details.
Sellers:
Let It Be Records
GoJohnnyGo
Riffs-Ahoy

Dates and Location:
Friday May 14th      4 PM – 10 PM
Saturday May 15th   10 AM – 8 PM
Sunday May 16th     Noon – 4 PM
Sale Location (same as last time): 2285 University Avenue, St. Paul
It is being held in the 'party room' of the Carlton Lofts buildings, which is located between the two loft buildings. There is plenty of free parking on University. Of course, the sale is free as well! For directions help, is it 2 blocks west of the Vandalia/Interstate 94 exit. Take the exit, go North and then left onto University. Or it is 4 blocks east of the 280/Interstate 94 University exit. The 16 bus line runs right past as well.