Win a free drink at the K Frimpong Party!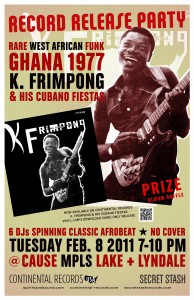 Be the first person to correctly answer the following question and you will win a free drink or shot at the K Frimpong & His Cubano Fiestas LP release party on Feb 8th at Cause Soundbar in Minneapolis. Your answer must be posted on our Facebook or Twitter page in order to win.  If you've already won a drink at the party, you'll have to sit this one out.  Here is the question:
What was the name of the large music festival in Ghana that took place in '71 and who were three of the artists that performed?
Good luck!