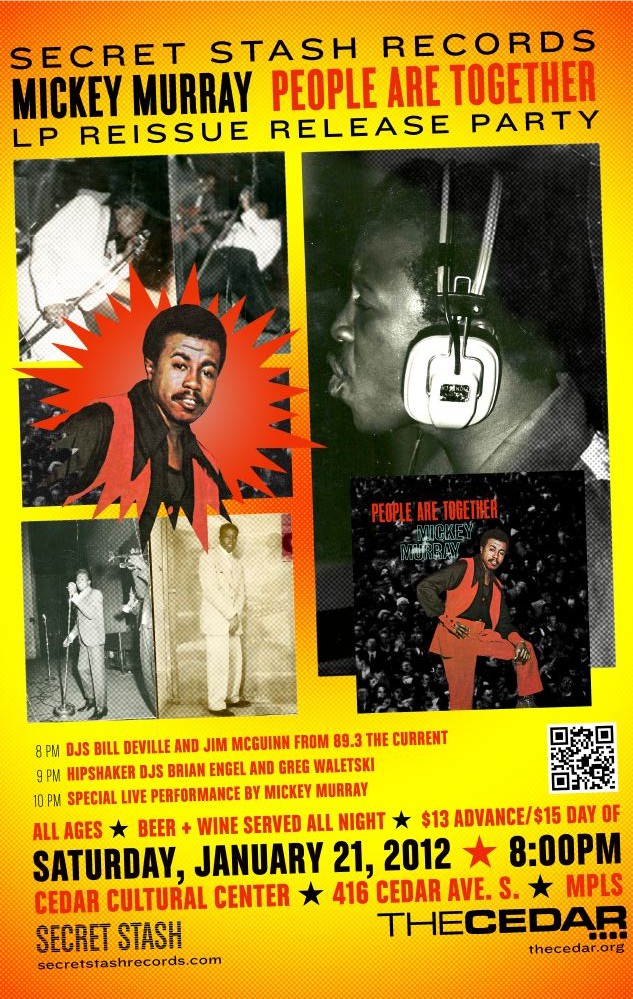 To celebrate the reissue of Mickey Muarray's "People Are Together" album, we are flying Mickey up to Minnesota for a rare performance. This Saturday, January 21 at the Cedar Cultural Center hear DJs Jim McGuinn and Bill Deville from
The Current and DJ group Hipshakers, as well as the man himself, Mickey Murray! For more details, click here.
If you haven't gotten a copy of the record yet, don't miss out; the first 250 copies will include a limited edition Mickey Murray 45.  Both tracks on the 45 were recorded in the same sessions as the LP, but weren't released until 2 years after the label abandoned the LP.  To hear a sample, see below.  Each 45 is hand numbered to match the number on the LP jacket.
Records are reserved on a first come, first served basis.  The earlier you order , the lower number you will have.  We're only doing 250 of these bonus 45s.  When they're gone, they're gone, so don't snooze on this one!
| | |
| --- | --- |
| To learn more about Mickey Murray and "People Are Together," check out the video below | To hear a sample of the 45 check out this video |
| | |
CONTINUE TO WEBSITE