Twin Cities Funk & Soul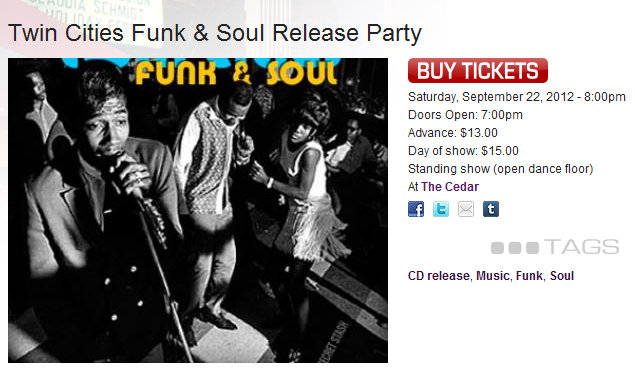 To celebrate the release of Twin Cities Funk & Soul, we've been working with over a dozen musicians from the original recordings to put on a soul revue concert on Saturday, September 22 at the Cedar Cultural Center. For many it will be the first time they will perform these songs in years!
In addition, we are excited to be having an in-store at the Fifth Element on Tuesday, September 25 with a performance by the reunited Valdons to kick off the official release of the comp!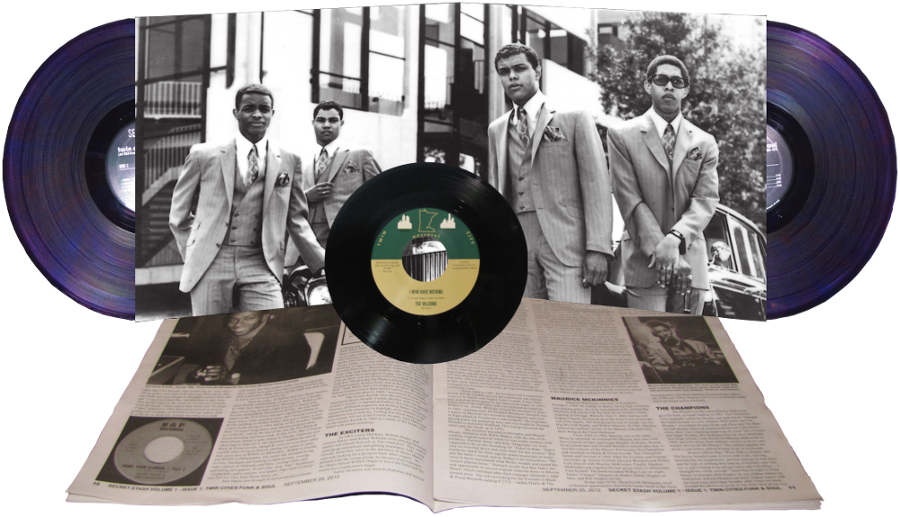 We are now taking pre-orders for our compilation of Twin Cities Funk & Soul. The first 500 copies come with limited edition purple wax and a bonus . All copies of the 2 x LP come with a 32 page 12″ x 11″ newspaper chronicling the history of the music and the scene.
To go along with pre-orders we are offering optional add-ons like a limited-run screen printed reproduction of an original concert poster from 1969, as well as men and women's t-shirts.
The Twin Cities of Minneapolis & St. Paul, Minnesota have long been recognized as great music towns. From the Andrews Sisters, to Bob Dylan, The Replacements, and Soul Asylum, the area has produced more than its share of influential artists. In 1979, Prince's self-titled sophomore release drew attention the world over to the Twin Cities. Soon "The Minneapolis Sound" spread as other artists from the area began to build on the foundation laid by the purple one. For most, this is the genesis of funk and soul from The Land of 10,000 Lakes. However, the Twin Cities has a rich R&B history dating back decades before Prince's rise to fame.
Twin Cities Funk and Soul: Lost R&B Grooves from Minneapolis/Saint Paul 1964-1979 is the first of its kind 21 track compilation uncovering and documenting this largely forgotten music. From sweet soul to full on dance floor funk, this record tells the story of the Twin Cities' R&B scene starting with the days of unofficially segregated clubs right up to the explosion of "The Minneapolis Sound."
Secret Stash Records has spent over a year painstakingly researching and interviewing musicians, photographers, club owners, writers and radio DJ's from the time to paint a picture and fill in the tales of yesteryear which are documented in a 32 page newspaper included with each 2xLP pressing. The newspaper itself is a nod to the region's most trusted music rag of the era, The Insider. Lovingly hand assembled by a group of loyal volunteers with a keen attention to detail, each copy comes in a resealable dust bag and includes a free download of the entire album. Each CD pressing comes in a premium digipack and also includes extensive liner notes and photos.