Secret Stash Goes To Peru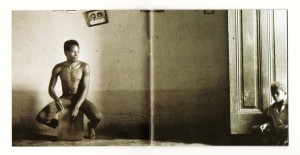 Since the invention of recording technology, people all over the world have utilized it to capture music to be enjoyed over and over again. Often times, especially with today's technology, recordings from one region travel thousands of miles across the globe and are enjoyed by a whole new audience. But, every once in a while an incredible form of music hardly seems to make it past the borders of the nation in which it was created. Such is the case with Afro-Peruvian music. Only a small handful of this music has ever been compiled and released outside of Peru. This spring Secret Stash Records will set out to change that.
On April 11th Minneapolis based Secret Stash Records is traveling to Lima in search of Afro-Peruvian music. A group of 3 people from the label will stay in the bohemian neighborhood of Barranco and record local talent. In addition to the recording project, they are also making the long journey in an effort to discover rare and lost recordings to reissue. They will film their entire adventure and compile a documentary detailing their experiences upon their return.
"We've been very fortunate to get hooked up with some very key players in the Afro-Peruvian scene. It's been absolutely amazing to see the response of the Peruvians to our inquiries," said Cory Wong, the label's VP of Production. "They are just thrilled to see a group from the US so interested in not only their music, but their culture. They possess an incredible sense of pride in this music and are excited to share it with outsiders. You can't really compare it to anything here in the states," he added.
The beginning of this project can be traced back to Wong's guitar studies in Saint Paul, MN with Lima native Andres Prado in 2007. It was during his time with Prado that Cory was first exposed to Afro-Peruvian music. Eventually he shared it with the rest of the Secret Stash staffers. The label, who specializes in compilations of very specific lost or forgotten niche genres of music such as Soviet Funk Volume 1 and Porno Groove: The Sound of 70s Adult Films instantly cooked up a plan to head down to Lima and compile new and old collections of Afro-Peruvian music for release throughout the word. Next week, they will finally make the journey, document every moment of it, and share their findings with music lovers everywhere. Be sure to check back right here for live updates from the guys while they are on their journey.