Music, an important part of Peruvian culture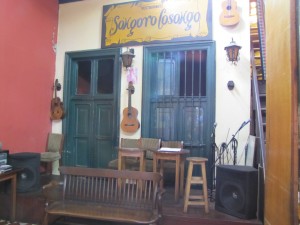 On our first day in Lima we stopped off for some mid-day ceviche and pisco sours in a small local restaurant that was built right off of the owner's house.  He came out right after we ordered and chatted with us for a while.  We told him what we were in town for and that Cory plays Afro-Peruvian music.  He pulled a guitar off the wall that we were sure was only there for decoration and asked Cory to play for him.  Cory started playing a Festejo and the shop owner quickly joined in singing and even playing the cajon.  Then he and Cory played a classic Cuban Son (a form of Cuban folk music) together and all the other customers in the restaurant joined in.
Technically speaking, what we witnessed that afternoon was nothing special to speak of.  What moved us in a very profound way was the realization that music is so tightly woven into the fabric of their culture.  It was all about feeling good and enjoying the moment together with those around, even if they were strangers.  This would be the first of many examples we'd witness first hand that illustrates this cultures love of music.  It was one of the most fun experiences of our lives.  Check out this video clip to see it for yourself.