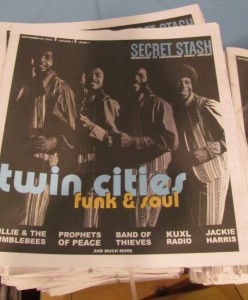 If you live in Minneapolis, perhaps you've seen copies of the Twin Cities Funk & Soul newspaper floating around. Maybe you don't live here, but you saw a copy on the counter of your local record shop. In case anyone is wondering, that newspaper serves as the liner notes for the compilation coming out this week. There is a copy stuffed inside every LP package. The CD pressing also includes a slightly truncated version of it (we literally couldn't make it all fit in a digipack!).
We look at it this way, you can't own history. The musicians, promoters, club owners, photographers, journalists, etc… they're the ones who did all the incredible work. All we did was write it down. It's long past due that these folks get their story told and we want as many people as possible to hear it. If someone doesn't have the money on hand to purchase the LP or CD, that shouldn't stop them from having access to the stories contained in this newspaper. To ensure this is always the case, we've put a free PDF copy of the newspaper online so anyone anywhere with an internet connection can view it for free.
If you'd like a free hard copy of it, please send an email to info[at]secretstashrecords.com and we'll hook you up.